Global People Employee Spotlight : Estefania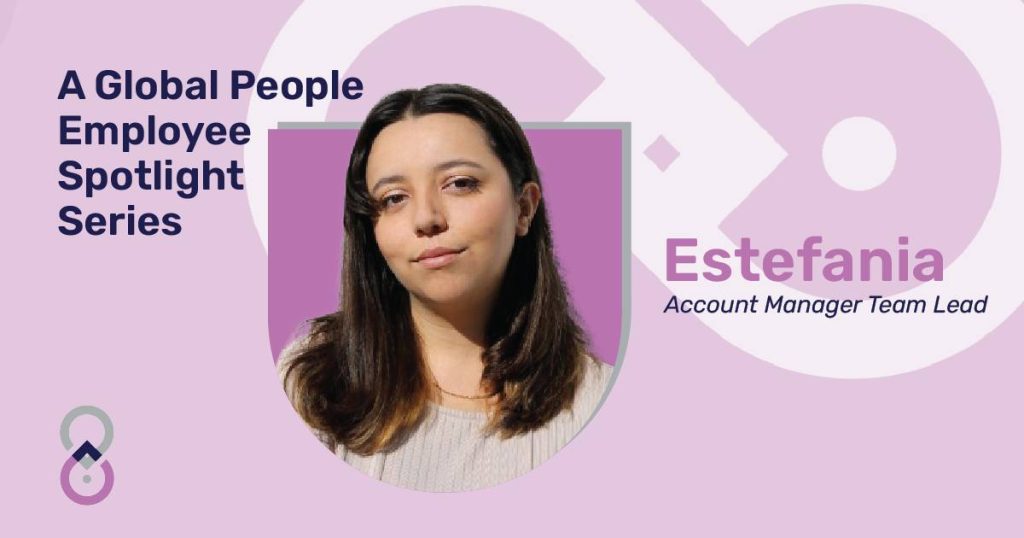 In our ongoing commitment to highlight the diverse voices that shape Global People, we are pleased to introduce Estefanía, an exceptional member of our team whose journey embodies the essence of cross-cultural collaboration and dedication to our mission. Join us as we delve into her experiences, insights, and the unique thread she weaves into the tapestry of our company's vibrant culture.
Diversity is more than just a word at Global People – it's the heartbeat of our thriving community. In our ongoing mission to celebrate the unique stories that shape our company's vibrant tapestry, we're delighted to cast the spotlight on Estefania, a remarkable member of our team whose journey embodies the spirit of global collaboration. From her corner of the world to ours, Estefania's narrative resonates with the very essence of what makes Global People a remarkable place to work. Join us as we delve into her experiences, perspectives, and the thread she weaves into our diverse fabric.
Can you share an example of a time when the company's values were evident in the workplace?
Having lived in 5 different countries, there is nothing I value more than independence and freedom. Working remotely at Global People has afforded me the invaluable opportunity to manage my own time and the places I want to be. It has also given me the freedom to travel back to Mexico and spend time with my family while still showing commitment to my job.
How has remote work positively impacted your job satisfaction and productivity?
I cannot picture myself going back to a regular in-person setup, at least not entirely. Just thinking about all the time saved by skipping the daily commute to an office. That extra time gives me the freedom to dive into other parts of my life – things like hitting the gym, hanging out with my favorite people or my dog, or putting in some hours for my NGO.
Describe a project where cross-functional collaboration played a crucial role. How did the team work together to achieve success?
In the buzzing atmosphere at Global People, I dive into cross-functional projects on the daily. All the way from Austria, I'm teaming up  with the Czech payroll crew while also onboarding an employee from the USA. Our work showcases how diverse expertise, transparent communication, and trust converge. Cross-functional collaboration isn't just a strategy; it's a philosophy we live by at Global People.
How has working with colleagues from different parts of the world enriched your perspective and approach to your role?
I have many opportunities to learn from colleagues and business partners. Every culture has different particularities that make it unique. Engaging with individuals from various corners of the world has created a profound appreciation for the intricacies of diversity and an unwavering commitment to its respect.
Estefanía's unique journey allows us to explore the facets of remote work, collaboration, and the enrichment brought by diverse perspectives. Her insights resonate with the values of independence and freedom that underpin Global People's work culture. Through her experiences, we gain a deeper understanding of how remote work has positively impacted her job satisfaction and productivity. Her engagement in cross-functional projects highlights the philosophy of teamwork and communication that defines our company's approach. Additionally, her reflections on diversity underscore the richness that colleagues from different parts of the world bring to our collective understanding.
As we conclude this edition of Global People's Employee Spotlight, Estefanía's narrative reminds us that we shape a truly exceptional workplace through the harmonious blend of unique backgrounds. Her story reflects the essence of unity amidst diversity, resonating with the heart of Global People's mission. To truly build a diverse team, take it from us, we did it for ourselves and we can do it for you. 
---

Global People is a leading local employment solutions provider for national and international corporations and can advise and escort you in your next destination.